Reservations, Rates and Reviews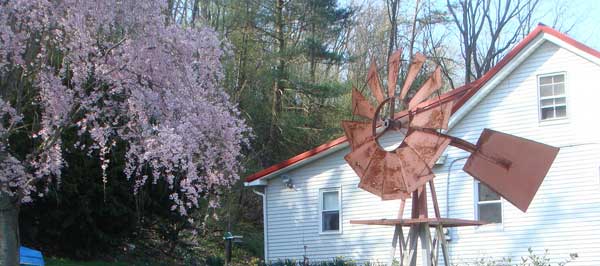 We believe in flexible scheduling. Our goal is to meet your needs. Start and end your stay any day of the week. Check-in time is 4 pm. Check-out time is 10 am on the day of your departure. We always offer flexible check-in and check-out times as long as there are no adjacent bookings.
We do require a minimum two night stay, with a three-night minimum stay some holiday weekends.
Additional fees:
Cleaning fee - $100
Pet fee - $50
Refundable security deposit - at least $350

Standard Rates
Two night minimum stay
starting at $175 per night
starting at $1150 per week
starting at $2995 per month

Holiday Rates
New Year's Eve
Easter
Memorial Day
Independence Day
Labor Day
Thanksgiving
Christmas
Three night minimum stay
holiday rates starting at $200 per night
For information, get a detailed quote, or to make your reservation:
Call or text - Tina at 570-640-9185
- Andrew at 443-591-1051
Email - VisitCloversCottage@gmail.com
Pennsylvania 6% sales tax and Schuylkill County 5% room tax are required to be collected in addition to our rates.
Gift certificates are available. Give the gift of a romantic getaway, family fun, or relaxation to someone you love!

When You Arrive:
If there are any problems or something is missing, broken or not clean to your expectations, please contact us immediately so that we can resolve the issue during your stay if at all possible.
In the days prior to your arrival, you will receive welcome information, a check-in letter and other helpful information. We also welcome any questions you have to help prepare for and enjoy your stay.
Before You Leave:
All debris must be secure and placed in the trash bin/tote that is located near the garage. All recycling must be clean, sorted and placed in the recycling containers located in the kitchen. If these become full, the recycling can be bagged and placed in the recycling bin/tote that is located near the garage. All soiled dishes must be placed in the dishwasher or hand-washed.
Strip the beds that you have used (so that we know which beds and linens need our attention). You may place your dirty linens in the laundry room.
Turn off EVERY thermostat EXCEPT for the upstairs bathroom. Please set that thermostat to approximately 50 degrees.
Shut all windows.
Lock all exterior doors. Return the FRONT DOOR KEY to the combination lock.
Empty the fridge of all food that will not remain fresh very long.
Please report any damage that has occurred before you depart.
Around the House
Water - Bring your own drinking water. The well water is fine for washing, bathing and cleaning, but we suggest that it is not potable.
Phone/Internet -There is no phone or internet at Clover's Cottage. You will be amazed at how much more relaxing your visit will become when thoughts of these daily interruptions have ended. If this technology is important to you, we have found that most cellular services do provide service to our little valley, but occasionally, you may have to take a little walk up the lane to get reception.
Cell Service - Cell phone service is available for most providers. However, it is not always reliable across the entire property and sometimes in certain areas of the house.
Heat – Should you need it, it is individually controlled in each room. Be sure to turn it back down to 45 - 50 degrees before you leave.
Cooling - There are window air conditioning units in two bedrooms if you visit Clover's Cottage in June, July or August. It is generally very cool on the first floor throughout the summer months (18" field stone walls!). You will find that air conditioning is seldom needed in our little valley.
Cooking - The stove/oven is a gas antique reproduction with modern components. To light the oven, you can open the door and see the pilot light in the bottom through the little holes in the floor of the oven. You should press, turn and hold the oven knob down for about 15-30 seconds after lighting so that it can heat up the ignition component and so that the ticking of the ignition will stop. Sometimes it takes a minute or two for the ticking in the oven to stop. This is ok.
Music - You may want to bring your own music. Radio reception is limited. A CD player is available (and a CD library).
Garage - There is no guest access to the garage.
Chimney - The chimney flu is already set to "open". The flu handle is located on the right side of the fireplace ceiling. The flu is open if the handle is pulled forward, toward you.
Love from the city
"Clover's Cottage was an amazing last minute trip for us. We rent houses all the time and love exploring new areas. This was one of the best. The property was fun to explore, our dog was having the time of his life, and we made elaborate dinners outside over the open fire. It was cold out and snow on the ground, so building fires inside and out was a must. The hot tub was tricky getting into in 20 degree weather but once inside, magical...Thank you for providing a fun place to be silly with friends and connect with nature again. This was much needed for all of us from the city."
Winter Wonderland
"Thank you for sharing your charming home! We enjoyed a long weekend at the cottage surrounded by picture perfect winter scenery. We ice skated on a snow covered pond and watching flurries fall from the sky from the hot tub. Each day ended snuggled by the fireplace - just perfect and exactly what we wanted and needed."
Show me the St. Valentine's love
"In the well lit rural valley we remembered family, home, love. We bathed in your well situated sunlight, dwelled among bonfires and warm waters. We send you gratitude...such a splendid blessing to find ourselves here among and around your beautiful lives. Thank you for sharing. Angels live here too. Sweet as honey."
Our first guests
"Our team of six fell in love with Clover's Cottage immediately! The photos on your website don't do it justice. :-) We slept well, we laughed, we cried, we shared, did skits, watched movies, cooked, walked, quieted our minds and loved being here. Hot tub on a brisk night under a strry sky was amazing too! Thank you!"
A Scandinavian love story
"We spent the beginning of our new year in your wonderful cottage, lounging by the scenic fireplace, starting many a "rumor" in Clue, listened to songs and held hands dancing. After soaking the ice cubes by the fire, we told spooky alpine ghost tales in the Norse tradition..."
More Reviews at bottom of page
Reservation Policy
A refundable security deposit of $350 is collected at time of reservation (a higher amount may be requested for extended stays).
No dates are held until payment is made.
Rental agreement must also be accepted at the time of booking. IT can be returned by US mail or email.
100% payment is required at the time of booking.
Payment can be made through various payment options: personal check, Venmo, PopMoney or similar online payment apps.
Last minute reservations are possible as long as full payment has cleared before your arrival.
Reservations can be cancelled for a full refund if the property is successfully re-rented.
Pets are welcome for a $50 fee.
We do not rent to individuals under the age of 25.
We maintain a 100% smoke-free environment at our cottage. Smoking outdoors cannot result in litter on the property.
Cottage Policy
Generally, check-in and check-out times are up to you. Arrive and depart at any time that works for you. In the unlikely event of back-to-back reservations, check-in time is 4:00 pm and check-out time is 11:00 am.
Report any missing, broken or cleanliness concerns as soon as they are discovered so that we may have the opportunity to resolve the issue during your stay.
Your privacy is important to us. We do not share, sell or lease your email address to anyone.
Emergency?
Dial 911.
The full address and property owner contact information is onsite at the property and in your rental agreement and on the front door.


Click on this link to see our Flickr Photo Gallery.