From the moment you come down the lane to Clover's Cottage, you will begin to breathe more gently, slow your heart rate and remove yourself fully from the hustle and bustle of your daily life. As you walk down the sidewalk to the cottage, you may notice the covered front porch swing, the picnic table where you'll enjoy an evening dinner or the open campfire and comfy chairs for storytelling and s'mores. A closer look may reveal the shaded hammock perfect for reading, and the original working hand well pump where children can have hours of fun. Two small docks make fishing easy and a large supply of firewood awaits you in the wood shed.
This is only the beginning of what Clover's Cottage has to offer. There are quiet walks down the path to Pine Creek, where you can swim or float on an inner tube or you can stick closer to home and listen to nature babble in the little brook right outside the front door. There is a canoe to float on the pond or a covered footbridge to explore the nearby woods to search for signs of deer, turkeys and other hidden animals. You may hear the sounds of goats or see some peacocks that wander to the property from the neighboring farm. Pick some blueberries or wild raspberries for your breakfast cereal or take a walk down some of the many miles of country roads that surround the property.
Clover's Cottage was converted from an old flax mill built sometime around 1887 and sits along a stream and pond. The first floor boasts a cozy and well equipped eat-in kitchen, a laundry room and a convenient half bathroom. There is also a comfortable and rustic living room with a wood fireplace built from old reclaimed schoolhouse bricks. Because of its origin, the first floor is built from local field stones and has 18" thick walls (no need for air conditioning!) and a counter made from a huge cast metal slab from the original flax grinding equipment.
The second floor opens to a small sitting room surrounded by three bedrooms. Each room is decorated in warm earthy tones and local antiques that evoke country charm and a restful atmosphere.
The sitting room has original wide plank floors and is a great place for you to sit and enjoy a book or watch a movie. A screened sliding door opens to an expansive deck that overlooks the stocked pond. The outdoor deck is 10' X 36' and includes outdoor seating, a hot tub and a small bar.
The luxurious and spacious bathroom is nestled between two bedrooms, a layout which is typical of homes of this age. It evokes a feeling of a country spa, with a beautifully restored claw foot soaking tub that allows for complete relaxation. There is also a walk-in shower large enough for two, with a bench and rain shower head. The bathroom is fully tiled and soft fluffy towels are the best of modern day comforts with timeless rustic treasures.
The large master bedroom offers a queen bed, dresser and closet, as well as a day bed that can be utilized for lounging or sleeping. A large table at one end of the room will allow you to enjoy card games, crafts or conversation with family and friends. There is an exterior door in this bedroom that will offer a rear exit from the cottage or entrance to the deck.
The second bedroom has a double bed with a dresser and nightstand and original wide plank floors. This room also has a closet and entrance to the bathroom.

The third bedroom has a single bed and dresser with entrance to the bathroom and original wide plank floors.
The property also provides an outdoor storage shed (the Duck Shack) that holds all the makings for an outdoor vacation full of fun. Life vests, bug catchers, oars, tackle boxes and refills for the night torches, croquet set and more are ready for your entertainment.
Amenities are extensive and include marshmallow roasting sticks, mountain pie maker, binoculars, bread machine, hand mixer, blender, toaster oven, toaster, gas grill, stove, oven, fans, feather down comforters, linens, full service kitchen, indoor and outdoor blankets and quilts, board games, small DVD collection, book and magazine library.
All guests should be sure to bring their own:
Beach towels, ice skates, drinking water, phone, internet access and food.
Your pets are also welcome. A long lead and tie out stake is in the laundry room to help you keep your pet safe when outside. If your dog wanders, be aware of the animals living at nearby farms. Be aware that Amish buggies pass as often as cars, so make sure your dog won't chase the horses.
If you are ready to leave the property by vehicle, you have a number of great options for things to do. Every Friday you can attend the Crossroads Farmer's Market and Auction. There you can buy just about any food imaginable from noon to approximately 8 pm. Homemade Amish pretzels, fried chicken, ice cream, delicious farmer's cheeses, a huge variety of pies, fruit, vegetables, crafts, flowers and many household goods can all be found at the market. Even the local winery has a stand at the market with free samples to enjoy before you buy! Arrive hungry and return satisfied with enough supplies to create a delicious feast for the rest of your stay.
Weekends in the summer give you the opportunity to make a night of it at the Sky-Vu Drive-in movie theatre - one of the few remaining across the nation. The town of Gratz also has the Boardwalk Family Fun Center, a drive-in restaurant and small game room where you can get 52 flavors of soft-serve ice cream or a scoop of Hershey's Ice Cream transformed into one of your favorite frozen treats.
America's Oldest Brewery, Yuengling Beer is located just 35 minutes away in Pottsville, and offers free daily tours with free samples of their products. If you enjoy wineries, plan your visit to one of the five wineries found in Schuylkill County, or at the Lighting of the Vineyard event each winter at nearby Benigna's Creek Winery. Golfing at Lykens Valley Golf Club is an option, as is four wheeling at Rausch Creek Off-Road Park.
Don't want to cook? Then you may relax more and have any or all of your meals at number of wonderful and casual local restaurants.
Less than an hour away is one of the best family amusement parks in the nation - Knoebel's Grove, where parking and admission are always free.

You are likely to catch some fish every time you come to visit.
Imagine the cute little troll that lives under the covered bridge.
July is blueberry picking month (and wild raspberries too!).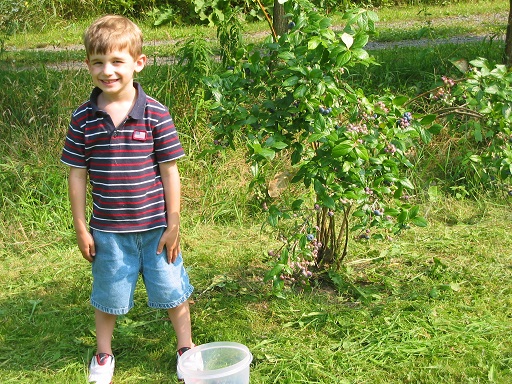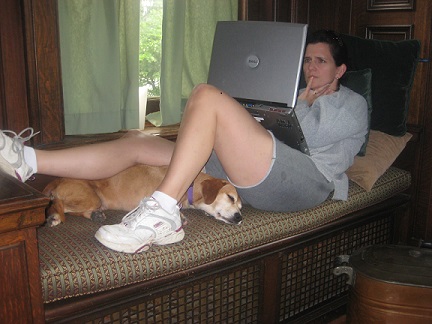 Our lucky 3-legged Clover
Have you ever been blessed with a pet that you always remember as the "the best" - the pet that you will remember for a lifetime? Clover was that dog for us. Adopted from the Pottsville Hillside SPCA, Clover was completely NOT what we were looking for. She cowered in the corner, had a cherry eye that made her look chronically sad, was a tinier dog than we had envisioned for our family, older than we thought we wanted, and only had 3 1/2 legs. Born with a birth defect, Clover's life prior to joining our family must have been a sad one. But something about her intrigued us, and there was quick consensus that she was the dog for us.
So we took her home. She didn't raise her head for a day, but she did wag her tail. She didn't eat much for a few days, but she was calm and peaceful from the moment she arrived. She didn't make a noise, but soon was following me around the house - not in an annoying way - but rather in a loving, loyal way.
We brought Clover home in January, and fell in love with her 15 minutes later. I never loved dogs, but agreed to get another one for the kids - and for my husband, who romanticized about having a dog that was a loyal follower to his every whim. Within days Clover was my dedicated friend, and I was her most important human - a Mom in a busy family of three children, a loving husband and an aloof cat. She chose me at a time when I didn't even know I needed her to love.
She immediately was my all-day companion. I worked in our in-home office and she slept beside me in the window seat. I folded laundry and she jumped into the basket of warm clothes. I made lunches and she sat silently at my feet hoping I would drop a treat to her. My oldest child realized quickly that she was a smart dog, eager to please, and taught her many tricks - Clover was so pleased to be able to do anything for us - including literally jumping through hoops. She curled up with our youngest and would wait patiently for our middle child to drop food to the floor. My husband loved her as well, but quickly realized that I was the human that Clover aimed to please. Clover and I spent days together keeping the household to a reasonable level of not-so-organized chaos, and she loved being by my side. I had had dogs my entire life, but this was the first time that I could say that I loved a dog. Clover Dozie was just that special.
After only six months, we lost Clover to a tragic accident. It was a difficult loss that can still bring me to tears. But I soon realized that she had come to our family to serve her purpose and we had in turn, given her what she needed. For perhaps the first time, she had a family to love her deeply. She knew it and repaid us with love beyond words. Clover now holds a place of honor on our property, resting peacefully among the pine trees as you enter the lane, and we remember the important love that she she taught us by naming Clover's Cottage after her.
A working hand pump makes for old fashioned fun for all ages.
Relax. Enjoy the tranquility.

Click on this link to see our Flickr Photo Gallery.